Vanilla JavaScript Plugin
Crop images with configurable aspect ratio, minimum and maximum dimensions, etc. Great, but requires a license.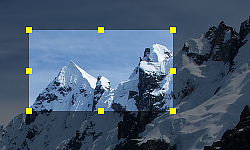 Plugin Website
Related plugins
An image cropper that's lightweight, awesome, and has absolutely zero dependencies.
lazySizes is a fast and SEO-friendly lazy-loader for images, iframes, scripts and much more.
Beautiful and very powerful image gallery plugin. A bit on the larger side concerning code base.