Vanilla JavaScript Plugin
A simple date picker. Works in IE10+ out of the box. Explanation provided on how to use it with IE 7 and above.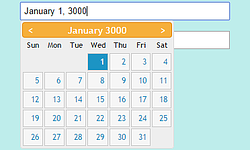 Plugin Website
Demo
Related plugins
Customizable date and time picker. Rather lightweight, with optionally used jQuery UI styles.
A lightweight date picker plugin with flexible CSS style options.
A sophisticated calendar and date/time picker library.