Vanilla JavaScript Plugin
A light-weight and powerful GitHub Flavored Markdown editor.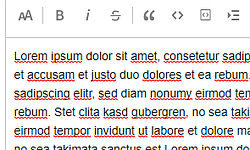 Plugin Website
Demo
Related plugins
A sophisticated HTML WYSIWYG editor control with manifold customization options, skins, and plugins.
A free WYSIWYG editor for the modern web. With its extensible architecture and a expressive API you can completely customize it to fulfill your needs.
A highlighter plugin that can be used to dynamically mark search terms or custom regular expressions in any text.