Vanilla JavaScript Plugin
A pretty swipe list for mobile touch control and navigation.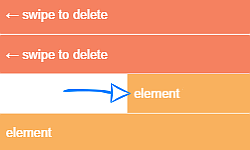 Plugin Website
Demo
Related plugins
A sophisticated slider plugin with lots of options based on Owl Carousel. A bit on the heavy side.
A simple, responsive, touch-enabled image slider plugin. No active development, but working nonetheless.
Swipe is a most accurate touch slider. It is extremely lightweight and works across all browsers, including IE7.