Vanilla JavaScript Plugin
A helper for creating highly customizable and dynamic Google Maps marker info popus.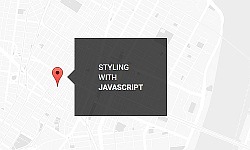 Plugin Website
Demo
Related plugins
The official API/Plugin for loading and configuring Google Maps within any application.
A non-blocking pop-up notification library for web pages.
A lightweight widget for displaying popup notifications and informative messages in Growl style.