Vanilla JavaScript Plugin
A library to highlight navigation elements on one page layouts.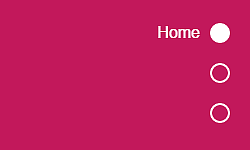 Plugin Website
Demo
Related plugins
Not an actual plugin, but a simple CodePen demo of a sidebar push menu that may come in handy.
Syntax highlighting auto-detecting 118 languages, multi-language code highlighting. A bit on the large side for a code highlighter.
A simple solution for an accordion menu using vanilla javascript and some CSS3 properties. The CodePen demo doesn't work in IE < 11 - yet, the plugin does.