Vanilla JavaScript Plugin
Tiny, invisible and simple, yet powerful and fast script that adds search, sort, filters and flexibility to plain HTML lists, tables, or anything.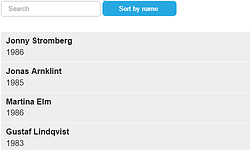 Plugin Website
Demo
Related plugins
Create dynamic tables - a vanilla JS version of the jQuery DataTables plugin.
A tiny and effective library for making tables sortable.
A small and simple sorting component for tables. Requires IE 10 or above.