Vanilla JavaScript Plugin
Generate and animate dashboard gauges. It is based on the Raphaël library for vector drawing.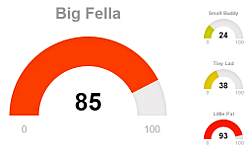 Plugin Website
Demo
Related plugins
ZingChart is a powerful library for quickly creating beautiful charts, dashboards, and infographics.
A very flexible and professionally designed charting library, offering lots of different types of charts and diagrams.
Simple, clean and engaging charts for designers and developers. Multiple chart types, flexible customization, beautifully animated.