Vanilla JavaScript Plugin
An elegantly styled, highly customizable dropdown select form widget. With 37 KB, the library has a rather large file size given its functionality.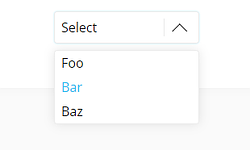 Plugin Website
Demo
Related plugins
A sophisticated select input field with lots of customization options.
Auto-resize textareas, input fields and select boxes on update.
An open source library that provides drag'n'drop file uploads with image previews. Requires IE 10+.