Vanilla JavaScript Plugin
A plugin that provides custom tooltips that are beautiful, powerful, and extensible.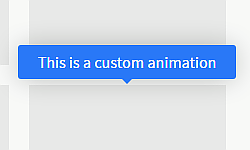 Plugin Website
Demo
Related plugins
A simple tooltip widget supporting inline title attributes and rich text popups. Not maintained any more.
Simple tooltips following the mouse cursor on hover.
Responsive and mobile-friendly tooltips. Not actually a real plugin, but a tutorial with live demo.