Vanilla JavaScript Plugin
An iPhone-style form field widget that can be used to select dates or whatever you pass into it.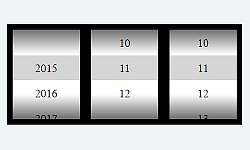 Plugin Website
Demo
Related plugins
Customizable date and time picker. Rather lightweight, with optionally used jQuery UI styles.
A lightweight and powerful date/time picker.
A library for creating fancy, SVG based, animated menus. The SVG library Raphaël is required.