Vanilla JavaScript Plugin
An iPhone-style form field widget that can be used to select dates or whatever you pass into it.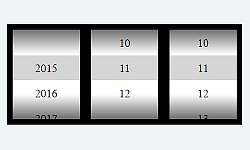 Plugin Website
Demo
Related plugins
Customizable date and time picker. Rather lightweight, with optionally used jQuery UI styles.
A sophisticated select input field with lots of customization options.
A simple date picker. Works in IE10+ out of the box. Explanation provided on how to use it with IE 7 and above.