Vanilla JavaScript Plugin
Create notifications in the browser window's title bar. Change the title bar content or make it blink if desired.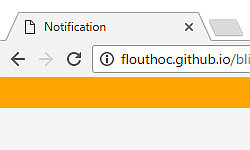 Plugin Website
Demo
Related plugins
A helper for creating highly customizable and dynamic Google Maps marker info popus.
An Ajax driven plugin for creating fluid and smooth transitions between individual website pages.
A lightweight, yet powerful modal window plugin with lots of great features.